Posted by Nick Ziegler on Thursday, February 13, 2014 with
No comments
By Nick Ziegler (@Ziggy26x)
February 12th, 2014
Charlotte Bobcats vs. Brooklyn Nets Post Game Recap
Final Score: Bobcats 89 Nets 105
The Brooklyn Nets were able to pickup a nice win at home against the Charlotte Bobcats on Wednesday night in their home game before the All-Star break and the upcoming Circus road-trip. The win moves the Nets to (24-26) on the season, and are still three games behind the Toronto Raptors in the Atlantic Division.
Player of the Game: Paul Pierce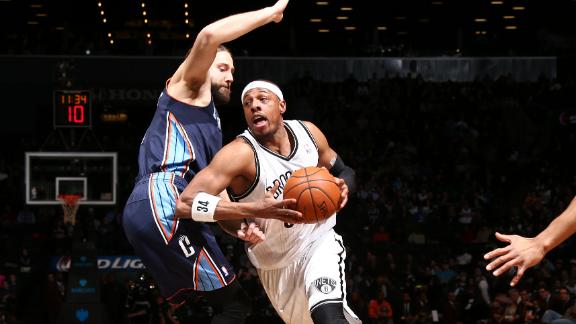 espn.go.com
Easily the best player for the Nets in their victory on Wednesday night was Paul Pierce, who in just 22 minutes left his mark on the game. Pierce had a game-high 25 points behind a great night shooting the basketball, going nine for 11, which included him going a perfect five for five from three-point range. Pierce scored 14 of his 25 points in the third quarter, as the Nets put away the Bobcats in the third, outscoring them 35-19. Pierce also had the highest +/- on the Nets going +26, as when he was on the court not much went wrong for Brooklyn.
Positives-
On defense the Nets did a great job against the Bobcats two main scorers in Kemba Walker and Al Jefferson, who both played below their normal against Brooklyn. Walker, who was questionable to play on Wednesday with an achilles injury, scored 16 points, but struggled shooting the ball, as he went just six of 17 from the field. Without having a true Center, the Nets figured out how to slow down Al Jefferson, who came into the game averaging 20-10. On Wednesday Jefferson did get a double-double, but was held to just 12 points on five for 13 shooting, which was huge for the Nets to keep him in check.
Andray Blatche was able to lead a bench unit that has been so great in the Nets turn around this season. Blatche scored 13 points on six for 11 shooting, with five rebounds, one steal and one block in 24 minutes. Mirza Teletovic was also good again off the bench, as he also scored 13 points, as he shot five for 11 from the field, with three three-pointers and eight rebounds.
Negatives-
Mason Plumlee, who was coming off against his best game of his career in their win on Sunday against the New Orleans Pelicans, only played 10 minutes against the Bobcats. In the 10 minutes of game-time, Plumlee scored just two points, with zero rebounds, in what was a polar opposite game from Sunday's great performance.
Next up for the Nets will be a trip to Chicago on Thursday for their final game before the All-Star break against the Bulls. The Nets are just (2-9) on the second half of back to backs, and the availability of Kevin Garnett is unknown, as he will likely get his rest day.