Posted by Nick Ziegler on Wednesday, February 12, 2014 with
No comments
By Nick Ziegler (@Ziggy26x)
February 12th, 2014
W2W4: Charlotte Bobcats vs Brooklyn Nets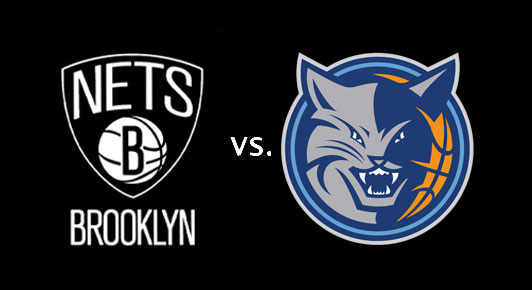 barclayscenter.com
The Brooklyn Nets will be hosting the Charlotte Bobcats on Wednesday night, as it will be the Nets final game at home before the All-Star Break. The Nets will be heading into Wednesday's game with a (23-26) record, which is three games behind the Toronto Raptors in the Atlantic Division.
- Small Lineup vs Big Al
The main goal for the Nets in this one will be the tough task of trying to stop one of the leagues best Centers in Al Jefferson. Jefferson was the Bobcats big pickup in the off-season, and he has lived up to the big contract he received. This season Jefferson is averaging 20.3 points, 10.5 rebounds, and 1.3 blocks per game, and in January and February he is averaging more than 23 points per game. Getting the task of guard Jefferson will be Kevin Garnett to start, then Andray Blatche and Mason Plumlee coming off the bench.
- Kemba's Status
Bobcats Point Guard Kemba Walker has been playing very well this season so far, and along with the addition of Jefferson is one of the main reasons that the Bobcats have the playoffs in their sights, but on Wednesday Kemba might not be able to play due to an achilles injury. With the All-Star break coming up and hopes of a playoff run in the second half of the season, it would make sense that if Kemba isn't 100% to give him this game off so he has a lot of time to heal.
- First Half of Back to Back
Wednesday being the last home game for Brooklyn before the break, they will look to finish strong at home, which has been great to them lately, as they've won 10 of their last 12 games in the Barclay's Center. With the Nets team age, the second half of back to backs have been tough, and Thursday they will be traveling to Chicago to play the Bulls, so getting a win over the Bobcats on Wednesday is needed. Thursday will begin the Nets circus road-trip, so after Wednesday night they wont be back in Brooklyn until Monday March 3rd.
- No Joker
Brooklyn will be without Power Forward/Center Reggie Evans for the next two games, as he will be away from the team due to personal reasons. Evans hasn't been in the rotation much at all this season, but going against Jefferson, Evans could have had some use to provide some muscle and size to at worst at least use some fouls. Without Evans to it will also be something to watch for on Thursday night whether or not Garnett will sit against the Bulls, which would leave the Nets with virtually no size against the Bulls talented front court.