Posted by Nick Ziegler on Saturday, March 08, 2014 with
No comments
By Nick Ziegler (@Ziggy26x)
March 7th, 2014
Brooklyn Nets vs Boston Celtics Post Game Recap
Final Score: Nets 84 Celtics 91
The Brooklyn Nets were unable to stay above the .500 mark on Friday night, as they were defeated by the Boston Celtics. The loss moves the Nets to (30-30) on the season, and they now trail the Toronto Raptors by four games in the Atlantic Division.
Player of the Game: Joe Johnson
Shooting Guard Joe Johnson was questionable to play on Friday with an illness, but was able to play, and along with Deron Williams was good for Brooklyn. Johnson finished with a game-high 21 points on nine for 21 shooting. He also grabbed seven rebounds, which was a quarter of the Nets total rebounds as the Celtics dominated the glass, holding the Nets to just 28 as a team. It was the third straight good game from Johnson, which is important for the Nets heading into the stretch run.
Positives:
Deron Williams was good once again for Brooklyn, but with most of the team struggling it just wasn't enough to get past a poor Celtics team. Williams finished with 20 points on seven for 15 shooting, but did have four turnovers with only four assists. Off the bench for Brooklyn the only positive was the play of Andray Blatche, who scored 11 points on three for seven shooting, and was one of the few Nets to have a positive +/-.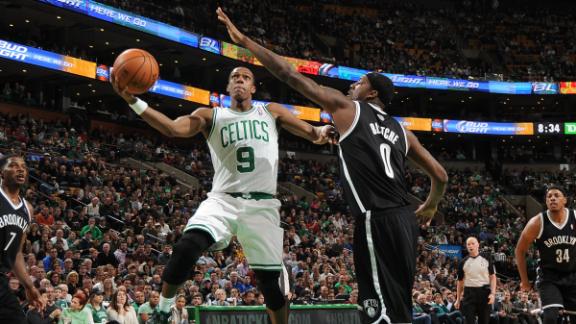 scores.go.espn.com
Negatives:
It was the second game back in Boston for Paul Pierce, but although he played better on Friday than he did on his first trip back to Boston, it was still a poor game from him. Pierce finished scoring just 11 points on four for 11 shooting with three rebounds and one assist. In three games now this season against the Celtics, Pierce is averaging just 6.7 points per game, while shooting a dreadful 25% from the field.
Shooting from three-point land was a complete nightmare for the Nets on Friday, which was a large part for their lack of scoring. In the first half the Nets went zero for 17 from deep and for the game they finished hitting just four on 30 attempts. Marcus Thornton had a rough night going zero for six from beyond the arc, and Pierce went zero for four. Even the good games from Williams and Johnson didn't exclude them from the poor percentage from three-point range, as they combined to shoot three of 15.
Celtics Point Guard Rajon Rondo looked good once again, as he seems to be getting healthy from his knee injury. Rondo came close to a triple-double, as he scored 20 points on six for 14 shooting with nine assists, seven rebounds, and four steals. Rondo even went three for six from three-point range, which is a rare thing from generally a poor jump shooter. The only downside to Rondo's game on Friday was that for the second consecutive game he turned the ball over seven times.
Next up for the Nets will be an off day on Saturday before hosting the Sacramento Kings on Sunday night.