Posted by Clevis Murray on Sunday, June 22, 2014 with
No comments
Rapper Wiz Khalifa once had a song that went, "roll one, smoke one." And that's what former Michigan Wolverine forward Mitch McGary did. Now the only reason he had declared for the hyped up 2014 NBA Draft is because he committed a infraction of NCAA rules in which he tested positive for marijuana use and faced a one-year suspension. Back track to 2013; McGary was one of the most well known collegiate athletes and was for sure a 1st-round pick in the underwhelming draft of 2013. That was then and this is now, the draft position of the Chesterton, Indiana native is up in the air.
The 6-foot-10, 263-pound big man returned to Ann Arbor this past season with only one goal in mind and that was to increase his draft stock (You thought I was going to say championship didn't you?). Well, prior to this season Michigan Head Coach John Beilen had advised McGary to meet with the NBA Draft Advisory Board for honest projections and opinions on him. Guessing by his decision to comeback, they weren't to kind.
Before the season started McGary received a bevy of adulation from numerous outlets as a possible meritorious winner of many awards from the Naismith Award to Wooden Award to the Oscar Robertson Trophy. After being linked to so many prestigious awards in the pre-season he entered the 2013-14 season with a multitude of back issues which had forced him to miss the first two games of the season. He later comeback after his sabbatical and played the next eight games before his back got the better of him again and he needed to be shutdown for the season. In late December it was announced his season would end prematurely and would have surgery on his indigent back on January 7, 2014.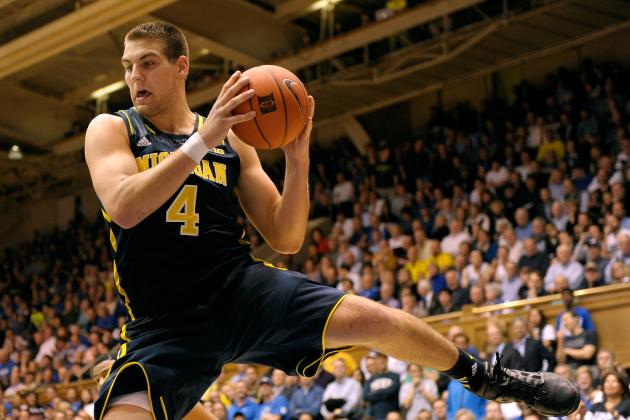 McGary the Hall of Famer? McGary the Superstar? McGary the star? More like McGary the role player. With his 7'0" wingspan and 9'0" reach, McGary is obviously looked at to be a good shot-blocker at the next level or so one would believe. In his two year career in blue and yellow he averaged less than one block (0.75) however he will be able to disrupt shot attempts. Having a wingspan that's taller than one you probably wouldn't hurt anyone. At 6'10" he averaged 7.3 rebounds in two seasons. When you see the height and the rebound numbers, one could surmise that he isn't the most aggressive person and that's very accurate. At the next level the more muscular and physical beings of the league won't shirk away from making him look like rag doll down low.
On the offensive end,

he's

more

Perry Jones III

than

Al Jefferson

. If you didn't get the analogy, I'm basically calling McGary a liability when it comes to "getting buckets" in the words of

Uncle Drew

. The 22-year-old's offensive repertoire would make him

the 5th option at the next level early in his career. When he's at the perimeter McGary has a proclivity to channel his inner

Jamal Crawford

and take bad shots but the difference is that McGary's fail go in. He settled for many bad shots during his frosh campaign and nobody could really tell in his second season since he barely played.

In two years, McGary shot an egregious 55.5% from the free-throw line. From a 6-foot-10 guy, it's probably expected for him to shoot like that. When he's on offense he'll have to figure out a way to convert from the charity stripe. Due to his quasi-rough play McGary might become well acquainted with the free-throw line.
McGary doesn't have much upside in him as he is/was a 22-year-old sophomore - due to academic reasons - and is the same age if not older than most college seniors. Expect McGary to be drafted late in the 1st-round and possibly early 2nd-round. The noticeable concerns include his back which could have been a reason why he didn't participate in the NBA Draft Combine and him avoiding the one-year suspension. Hypothetically speaking, taking the suspension would've helped him because there was a great chance he would miss the 2014-15 collegiate season rehabbing his back.
Some have prognosticated that McGary will probably struggle his first few years in the league and possibly have a few stints in the D-League before becoming a rotation player. Much of McGary's draft stock is contingent on his performance in workouts, but he's fail to complete any. McGary's draft stock is in deep trouble due to his suspension and back, because no team has been able to see how he has progressed and ultimately he could be a 2nd-round pick and that wouldn't surprise many. Teams can mainly judge his play from the 2012-13 campaign.
NBA Comparisons: Byron Mullens/Tyler Hansbrough
Best Fits: Utah Jazz/Charlotte Hornets/Houston Rockets
Twitter: @NBAFlashNews
FaceBook: NBA Flash News