Posted by Nick Ziegler on Sunday, July 13, 2014 with
No comments
The Brooklyn Nets off-season is shaping the 2014-15 Nets into a completely different looking team from the previous season, as the latest change will be that Paul Pierce won't be returning to Brooklyn for a second season.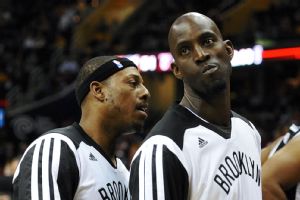 USA Today Sports
On Saturday night, Pierce decided to sign with the young, up and coming Washington Wizards for a two-year $11 million dollar contract, with a second year player option. Pierce will fit in nicely with Washington after their Small Forward from last season, Trevor Ariza signed with the Houston Rockets. Pierce certainly has some game left, as last season he averaged 13.5 PPG on 45% shooting. Pierce is also a great mentor to have for Otto Porter, who was the third overall pick in the 2013 draft, but didn't get much playing time in his rookie season.
Most surprising about the departure of Paul Pierce, was that the Nets, who had his bird rights, just simply passed on him. The Nets don't believe that they are title contenders, which is correct, and instead of giving playing time and money to Pierce, they have decided to try and develop their younger players, and try to reload in the 2016-17 season when they should have some salary cap flexibility.
Now most attention will go to Kevin Garnett, who is supposedly coming back to the Nets, despite not announcing that publicly yet. Even with the news of his long time teammate and friend Pierce leaving the Nets, Garnett is said to be excited, and likes the direction the Nets are heading in. If Garnett does return, some sort of mid-season buyout or trade if Brooklyn isn't playing well could be very likely, as although Garnett will be making $12 million, he also wants to play for a contender.
The blockbuster deal from last season to bring Pierce, Garnett, and Jason Terry to Brooklyn turned out to be a failure for the Nets, who essentially traded three first round picks to win one round in the playoffs. The good sign for the Nets is that they are seeming to be cutting their losses well, as there is some young talent on the team for next season, and with a healthy Deron Williams, Brook Lopez, and Joe Johnson, the Nets can still be a playoff team in the Eastern Conference.