Posted by Nick Ziegler on Monday, February 24, 2014 with
No comments
Nick Ziegler (@Ziggy26x)
February 23rd, 2014
Brooklyn Nets vs. Los Angeles Lakers Post Game Recap
Final Score: Nets 108 Lakers 102
The Brooklyn Nets were able to pickup the victory in Los Angeles on Sunday night, as newly acquired Jason Collins made history becoming the first openly gay player in the four major American sports. The victory moves the Nets to (26-28) on the season, and they are four games behind the Toronto Raptors in the Atlantic Division.
Player of the Game: Deron Williams
Point Guard Deron Williams had easily one of his best games of the season, and his second straight great game since the All-Star break. Williams had a season-high 30 points on nine for 16 shooting and went 11 for 13 from the free throw line. In addition to his best season performance scoring, Williams dished out seven assists, which moved him into fifth place in franchise history. He also had a career-high six steals in what was an overall great game from Williams.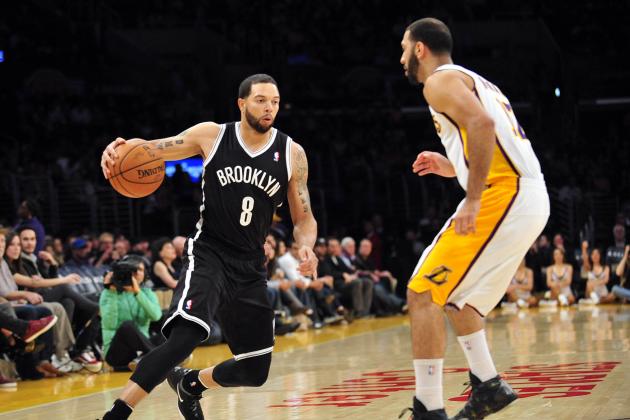 bleacherreport.com
Positives:
Paul Pierce absolutely lit it up to start the game, as his 14 first quarter points were a big factor to the Nets jumping out to a big lead to start the game. Pierce finished the game with 25 points on nine for 17 shooting, with seven rebounds and four assists. The hot start from Pierce led to a 33-21 score heading into the second quarter, when it looked like the Nets would be cruising to a victory.
Getting his first start of the season, Andrei Kirilenko came up with a good game for Brooklyn. Kirilenko had his first double-double of the season in 35 minutes, and he filled up the stat sheet. His 10 points came on four of eight shooting from the field, and he grabbed 10 rebounds with four steals, three assists, and one block.
Negatives:
The bench has been strength of the Nets most of the season, but with Kirilenko in the starting lineup with Shaun Livingston and Kevin Garnett out, it hurt the Nets bench production. Andray Blatche struggled against the Lakers, as he scored 10 points on a rough two for 10 shooting night. Marquis Teague had to play due to the injury to Livingston, but Teague didn't impress given the opportunity, as in 12 minutes he didn't score and only had one assists to two turnovers.
Lakers Center Pau Gasol has battled injuries all season, but on Sunday he was in the lineup, and looked good against the Nets small lineup. Gasol finished with team-high 22 points on eight for 12 shooting with 11 rebounds. A big game from Gasol wasn't enough for the Lakers to comeback, but in the second half they outscored Brooklyn by 10 points making it a ball game late.
Next up for the Nets will be a few days off before their road-trip continues against All-Star Damian Lillard and the Portland Trailblazers on Wednesday night.