Posted by Nick Ziegler on Sunday, February 23, 2014 with
No comments
By Nick Ziegler (@Ziggy26x)
February 22nd, 2014
Brooklyn Nets vs. Golden State Warriors Post Game Recap
Final Score: Nets 86 Warriors 93
The Brooklyn Nets hung tough in Golden State against the Warriors, but couldn't pull off the road upset against one of the better teams in the Western Conference. The loss moves the Nets to (25-28) on the season, and are now four games behind the Toronto Raptors in the Atlantic Division
Player of the Game: Deron Williams
Offensive production was hard to come by for the Nets against the Warriors, but Deron Williams did look healthy, and played a good game for Brooklyn. Williams scored a team-high 20 points on eight for 16 shooting, while dishing out six assists. Williams was able to outscore Warriors Point Guard Stephen Curry by three points, as Williams did his part to win the match-up, but he didn't get much help from his fellow teammates in the starting lineup.
Positives:
Brooklyn's bench was pretty solid once again, but they didn't get to have newly acquired Marcus Thornton in Saturday's game, as he was out with food poisoning. Andray Blatche played well once again, as he led the Nets bench with 14 points on six for nine shooting, with eight rebounds, two assists, and one steal. Andrei Kirilenko also played well in 32 minutes of game time, which is a lot more than usual. When Kirilenko is on the floor, the Nets are clearly better on the defensive end of the floor, as he is a versatile defender. He finished with six points on two for five shooting, with nine rebounds, three assists, and one block.
Negatives:
Without their normal starting Center Andrew Bogut, the Warriors started Jermaine O'Neal, who threw back the clock for a great game. O'Neal led all scorers with 23 points on a great 10 for 13 performance from the field. O'Neal was also the main reason the Nets were badly out-rebounded, as he had game-high 13. The frontline for the Warriors without David Lee dominated the glass, as O'Neal, Draymond Green, and Andre Iguodala all had double-digit rebounds leading to the 50 rebound day for Golden State.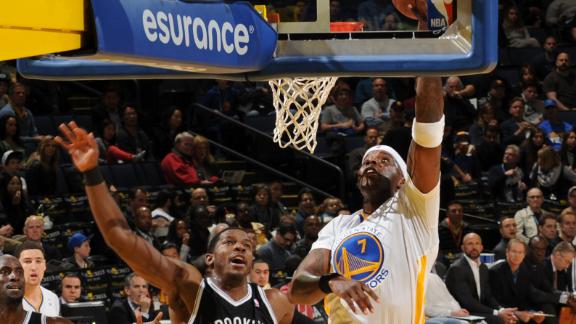 espn.go.com
There was a lack of scoring support for Williams in the starting lineup, as Joe Johnson and Paul Pierce both struggled in the game. Johnson scored 15 points in the game, but shot the ball poorly going five of 16 from the field, and with the game close at the end had two costly turnovers. Pierce has been battling turf toe, which maybe affected him in Saturday's game. He shot just three of 11 from field, ending up with just 11 points in 34 minutes.
A big blow for the Nets happened in the second quarter, as Guard Shaun Livingston went down hard and bruised his tailbone forcing him from the game. His status for their game on Sunday against the Lakers is unsure, which is a bad thing for the Nets, as Livingston has been playing very well of late for Brooklyn.
Next up for the Nets will be a the second half of their back to back against the Lakers, which is a situation that the Nets have struggled in this season.